MyHoming, collaborative web platform created by Angela Ponzini and Laura Galluzzo, is designed to bring together demand and supply of services for (con)temporary inhabitants in order to make them feel at home even in a foreign context.
Innovative Startup born in Milan, MyHoming intends to put in system the best commercial resources by giving them visibility through the production of original content in different languages. It's an online and offline service that maps facilities for the person, for business needs, wellness, food, leisure and mobility.
MyHoming is based on the idea that the word hospitality does not only mean offering a place to sleep, but also making a whole series of existing high quality "extra services and products" in the area available and easy to access. MyHoming thus intends to represent an online and offline database to connect supply and demand for these high quality accessory services. In essence, our mission is to identify the best shopkeepers in the city, starting with suggestions from those who live in the city every day, and to assess each of them according to four criteria: reliability, user friendliness, courtesy and transparency. MyHoming will be a sort of Michelin Guide that instead of just suggesting the best restaurants, also indicates the cleaners, beauticians and bakeries that a "local" would recommend to a tourist, a businessman passing through Milan, or a student away from home.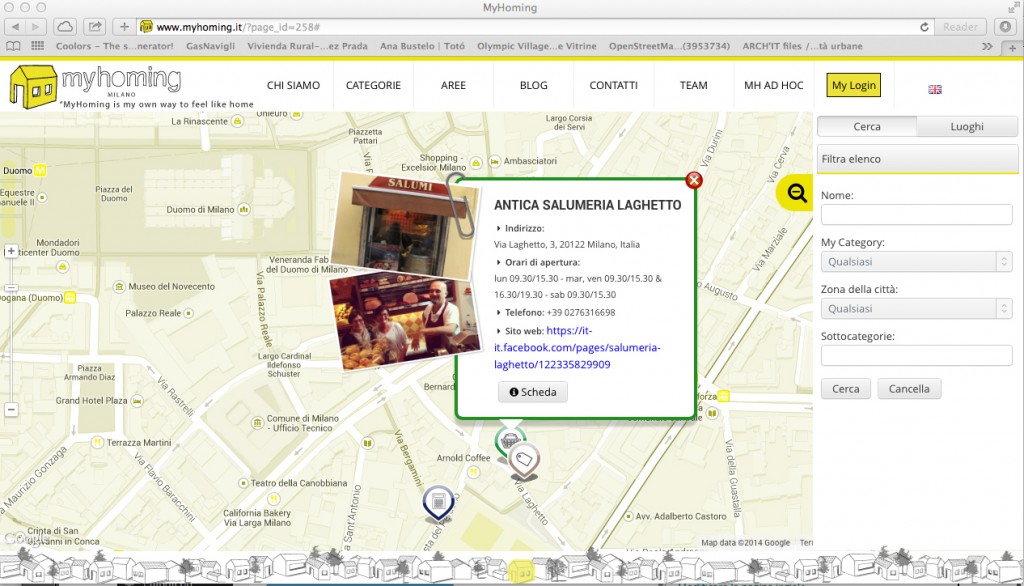 The result of the process is a detailed and evolving mapping of the best services (in Milan, for the moment) that recommends the best shops and services divided into seven categories: MyMove, MyEat&Cook, MyBeauty&Wellness, MyLeisure, MySerendipity, MyWork, MyShopping.
For each shopkeeper indicated, MyHoming produces original content in Italian and English (reviews and photographs), that describe the services/products offered, but also (and above all) the story or stories behind the individual shops and services.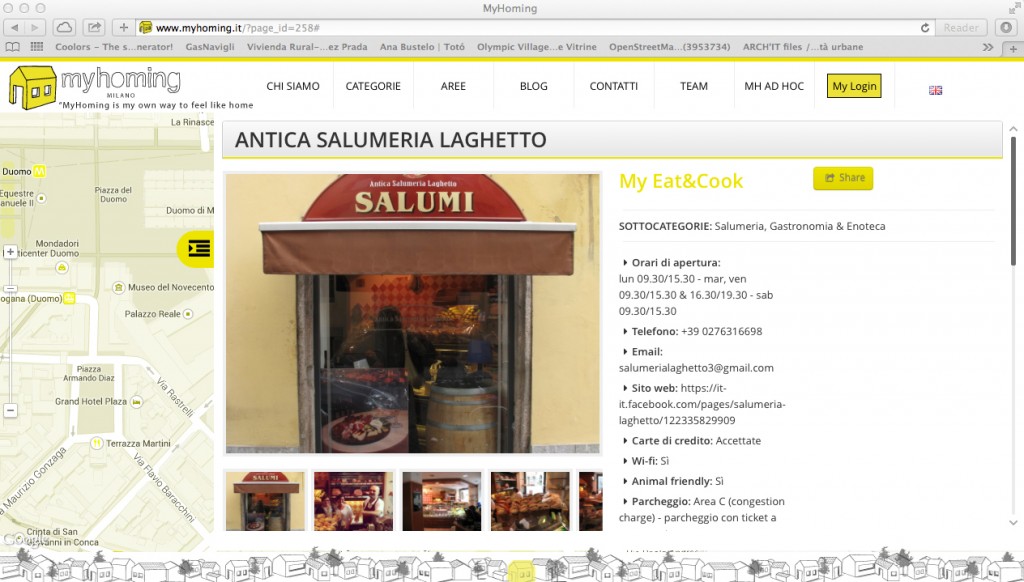 Users can register on www.myhoming.it, consult our database and create a personal map with their favorite shops and services. And of course users can tell us who their favorite shopkeepers are through our contact page; their suggestions will be taken into consideration for our mapping.
We believe deeply in the social value of this project. The goal is to provide a tool to those who live in Milan more or less temporarily, but also to promote local business through the mapping of the best neighborhood shops and services.
Demonstrating our social aims, we involve bloggers and Interest Groups (groups of people who share the same interests, like bicycle lovers, fishing enthusiasts, the coeliac association, etc.) who are already active in the area in the process of gathering suggestions and contents on the city; this creates a collaborative process that makes room for the diverse interests, philosophies and life values of each blogger and Interest Group. In this process we also identify and seek out sensitive targets such as families, working mothers, and people who are disabled or have special needs, with the goal of suggesting targeted and qualified activities and businesses (workshops for children's activities, pre-schools that allow for hourly access during the day, co-working + co-baby, supermarkets for coeliacs…).